Hoodies, sweatshirts, t-shirts & ball caps

MHSleds - Saucer Sleds - UFO
Unidentified Fun Object


Mountain Hardware Guide to the Best ...
SNOWPLAY IN SOUTHERN CALIFORNIA
& for current conditions check out the ...
Great Outdoors Report

Places to go Sledding & Play in the Snow
In the Angeles National Forest
near Wrightwood

The best places to go are west of the village. The warmer the weather, the higher elevations tend to be better.

* SUGGESTIONS *

Inspiration Point
Grassy Hollow Visitor Center
Peavine Campground
Apple Tree Campground
Arch Picnic Area
(restrooms are available at these sites)

Snow Play Map

Big Pines Recreation Area Map

Directions to Wrightwood



Note: No snowplay at Mtn. High or Ski Sunrise resorts

Please stay on national forest lands and respect private property by not trespassing.

AN ADVENTURE PASS IS REQUIRED FOR YOUR VEHICLE TO PARK IN THE ANGELES NATIONAL FOREST

AVAILABLE AT:
Jensen's Market - Wrightwood Mini-Mart

WE HAVE SNOW PLAY TOYS!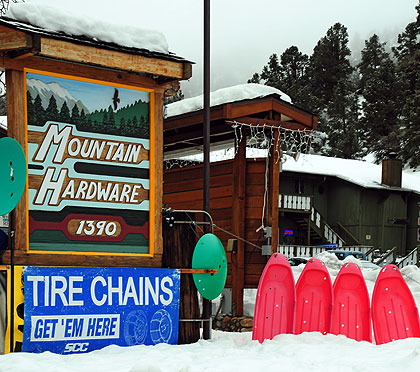 Mountain Hardware
Sleds, discs and more toys to play in the snow with. Hats, gloves, mittens, sweaters, jackets and anything else you may have forgot.



Mountain High
Snow Conditions Report
courtesy - Ski Wrightwood